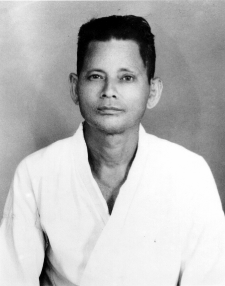 Susan Ingermann is the founder and lead instructor of Servant's Heart Isshinyu Karate School. She is a san dan, 3rd degree black belt in Isshinryu Karate and a 1st degree black belt in Ryukyu Kobudo Shimbukan, She has been teaching karate and kobudo for over 10 years. She holds a degree in elementary education from Purdue University. Teaching runs in her blood as her mother was a pioneer in special education and her father was a professor of mechanical engineering at Purdue University.
​
Susan has a passion for Isshinryu karate and for Shimbukan Kobudo. She has attended many seminars and competitions and has received numerous trophies and medals for local, national, and world Isshinryu competitions. She has also competed in Amateur Athletic Union (AAU) tournaments both regionally and nationally. Susan sees seminars and tournaments as an excellent way to meet and learn from karate practitioners across the United States and the world.
​
Partnering with Susan is her husband Keith Ingermann. They have been married for over 30 years and have 3 grown children. Together Susan and Keith make a great teaching team.
Our Program
At Servant's Heart Isshinryu Karate School our programs teach karate skills for self defense, safety, and physical fitness, while developing coordination, agility, balance, teamwork and focus. Our program helps build self confidence and self control and the values of respect, discipline and good manners. At Servan's Heart we make training fun and interesting, but it also takes work and dedication. Dedication does not come naturally, it must be taught and developed. We are happy to work with you to build a good foundation in karate.
​
A note from Sensei,
​
I believe in families. I know how hard it is to make ends meet each month, because of this, I work hard to keep our prices down. I refuse to make money off of teaching karate. I teach as a service to help others and to share my knowledge and love of karate with you. The fees help to defer the building expenses and to keep the lights on. The karate school, or dojo as we call it, is a place for families to gather and fellowship. At the dojo we become a family. Just as family members are expected to respect and care for their home, students are expected to respect and care for their dojo.
​
​
​
​
​
​
Servant's Heart Isshinryu Karate and Ryukyu Kobudo Shimbukan