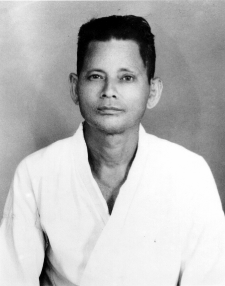 Our Program
At Servant's Heart Isshinryu Karate School our programs teach karate skills for self defense, safety, and physical fitness, while developing coordination, agility, balance, teamwork and focus. Our program helps build self confidence and self control and the values of respect, discipline and good manners. At Servan's Heart we make training fun and interesting, but it also takes work and dedication. Dedication does not come naturally, it must be taught and developed. We are happy to work with you to build a good foundation in karate.
​
A note from Sensei,
​
I believe in families. I know how hard it is to make ends meet each month, because of this, I work hard to keep our prices down. I refuse to make money off of teaching karate. I teach as a service to help others and to share my knowledge and love of karate with you. The fees help to defer the building expenses and to keep the lights on. The karate school, or dojo as we call it, is a place for families to gather and fellowship. At the dojo we become a family. Just as family members are expected to respect and care for their home, students are expected to respect and care for their dojo.
Classes
To sign up or simply come in for a class
​
Currently many of our classes are full and have a wait list.
You are welcome to walk into class or you may email, call, or text to ask about class times. Please be sure to include the age of the student when inquiring.
or my personal phone 248-705-1618
New Classes Starting July 1 (Ages 7-10)
Mondays and Wednesdays 5-6pm 75.00/month
​
​
Adult Isshinryu Karate Classes - $75.00/month
Students age 14 through senior citizens. It's never too late to start karate.
Tuesday and Thursday 7:00-8:00 pm Advanced belts 7:00 - 9:00 on Tuesdays
​
Youth Isshinryu Karate Classes - $75.00/month
This class is for youth ages 6-13 Children in this age group are ready to learn and grow.
Tuesday, Wednesday Thursday Classes are at 4:00-5:00 5:00-6:00 6:00-7:00
Saturday 9:00-10:00 11:00-12:00
​
At this time I offer two zoom classes for those who need to quarintine. When I stop offering the zoom classes we wll again offer our hugely popular Little Ninja's Class for 4-6 year old children.
​
Ryukyu Kobudo Shimbukan is Traditional Okinawan Weapon Training
Shimbukan Kobudo Classes $75.00/month / $25.00/month if enrolled in Karate class. We run sx month sessions. The beginning session includes a bo and foam nunchaku for home practice. Many weapons are studied in the system in upper belts. Up to black belt four weapons are studied, bo, Sai, Nunchaku, and tekko.
Adult Class Thursday 8:00-9:00pm 15 and up
Youth Class Saturday 10:00-11:00am ages 10-15
Tuesday & Thursday following adult karate class 9:00-9:30 pm Open Practice
It is a great honor to have an authorized Shimbukan training club at our dojo.
​
​
Improve fitness while learning to defend yourself. Training in Isshinryu Karate is an ideal way to improve your strength, flexibility, balance, and confidence while keeping your mind sharp. No prior knowledge or experience is needed. Isshinryu is a traditional Okinawan style of karate.
Uniforms are available for purchase: $40.00. Colored belts are $10.00
​
We accept all fitness and ability levels into karate. Give it a try. You will be glad you did!
Dues: To be paid the 1st week of the month
If you don't see a time that works for you, let me know. I am happy to open up new classes.
​
*** Family Rates are Available ***
​
Servant's Heart Isshinryu Karate and Ryukyu Kobudo Shimbukan